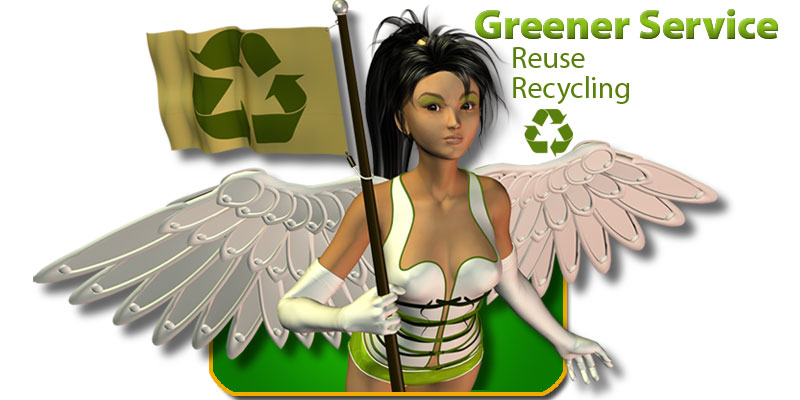 Computer Recycling and Reuse
Serving Seattle, Tacoma, Bellevue, Kirkland & Redmond
In the past few years awareness of the importance of proper computer recycling has entered the main stream. Angel's Junk Removal knows how important it is to you that your computer and electronic waste be disposed appropriately. Upon arrival to our facilities reusable items are left for donation while your expired e-waste will be separated and prepped for the shredding process.  At the end of the of the recycling process your computer or e-waste is separated mechanically into individual commodity streams where it is reintroduced on the commodities market.
Angel's services come direct to where your items are located. There is never any need to leave any items curbside. Call today for free computer, e-waste and junk removal estimates.
Domestic Recycling
Angel's is committed to recycling all computers, cell phones and electronic waste domestically. By recycling domestically we avoid uncontrolled burning, disassembly, and disposal that can cause several environmental problems including groundwater contamination, atmospheric pollution and water pollution in countries overseas. Domestic recycling also avoids the exploitation of cheap human labor by primitive and labor intensive recycling technologies.  Also, by recycling through Angel's, your company is not exposed to international universal/hazardous waste laws. To see where to recycle, see our lists for the recycling of computers and monitors
Hard Drive Destruction
Your computer's hard drive is where your private electronic documents and computer activity, including Internet activity are stored. Therefore it's destruction upon dispatch is imperative. Angel's is one of the few junk removal services that shreds hard drives individually to assure its complete destruction and your piece of mind.
Client confidentiality is important to us. To find out more about our privacy policy call us toll free at 1-877-744-5865.
Cities Serviced
Bellevue
Kirkland
Redmond
Tacoma
Federal Way
Normandy Park
Issaquah
Shoreline
Bothell
Renton
Burien
Kent
Woodinville
Edmonds
Items Recycled
Video Cards
Laptop Batteries
Printers
Desktops
Laptops
Routers
Computer Paper
Cell Phones
Hard Drives
Desktops
Printer Cartridges
Servers
RAM