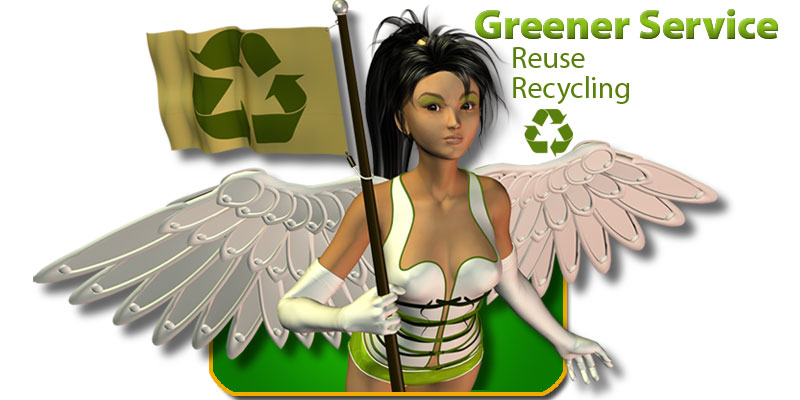 Computer Recycling in Seattle
Proper Disposal of your Electronics
Nowadays, computer waste, including PC computers, monitors and handheld devices are becoming a bigger percentage of our waste stream. This is especially true in the Greater Seattle Area where we not only love our technology, but we also often work in the industry itself. While technologies like personal computers, handhelds and e-readers usually reduce the amount of our paper waste, they often end up building up in our closets and basements once they become obsolete. Fortunately there are solutions that don't have any adverse effects on the environment. By calling Angel's we will remove the items where they are located and recycle what cannot be reused. Most of what is contained in obsolete computers can be recycled and Seattle is among the most advanced cities in this field.
Seattle Computer Disposal Ban
As of the end of 2005, it has been illegal to dispose of electronics, including computers and computer monitors, in the trash. The reason for this is that these devices contain significant amounts of hazardous materials. Computer monitors can contain several pounds of lead while electronic circuit boards also contain lead as well as cadmium and mercury.
Always use fully licensed removal services. Illegal haulers often have no traceable address. Improper disposal of computers can be traced back to owners leaving them with a possible fine. As a leading clean junk removal company, Angel's will always maintain our green outlook and eco-friendly attitude to preserve the planet for future generations.
Computer Recycling and Disposal in Seattle, WA
Download Hi-Resolution Video: Closed Format: "MP4" Open Format: "OGG"
Electronics We Remove
Servers
Cell Phones
Printers
Televisions
Apple Products
MP3 Players
Faxes
VCRs
Recycling Computers Yourself
It is extremely important to be familiar with who you dispose your old computer or computer monitor. Unethical recycling firms charge substantial fees to recycle old computer equipment and then ship the items overseas. As of January 1, 2009 Washington State household consumers, charities, small businesses and schools are no longer charged for proper drop off of electronics. If you wish to recycle your computer or monitor yourself, you are in luck. Seattle has several locations to drop off your old computer:
3RTechnology

5511 First Avenue S

Seattle, WA 98108

(206)957-2682

Mon-Fri: 9am-6pm

Sat: 10am-5pm
InterConnection

2222 N. Pacific St

Seattle, WA 98103

(206)633-1517

Mon-Fri: 10am-6pm

Sat: 10am-5pm
Re-PC

1565 6th Ave S

Seattle, WA 98134

(206)343-7443

Mon-Sat: 10am - 7pm
Total Reclaim

2200 6th Ave S

Seattle, WA 98134

(206)343-7443

Mon-Sun: 8am-4:30pm
Wilderness Technology

206 SW 112th St

Seattle, WA 98146

(206)242-9505

Mon-Fri: 9:30am - 5:30pm