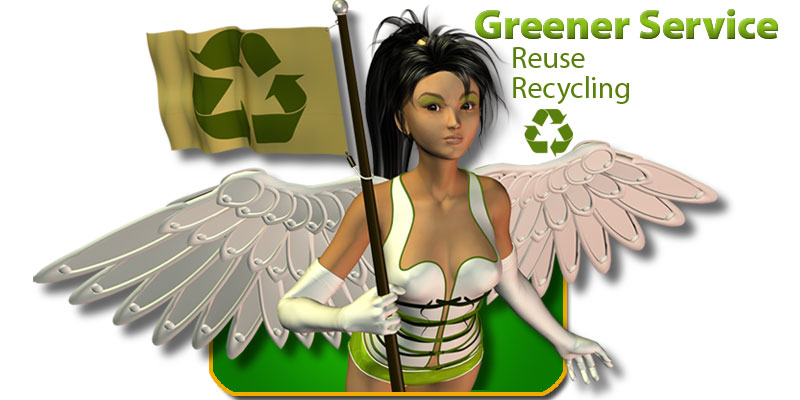 Appliance Disposal in Seattle
Removal, Recycling and Reuse Services
Are you updating a washer or dryer and you don't know how to safely get your space back? Are you a commercial contractor that is looking for a Seattle area junk removal company that will dispose of obsolete appliances responsibly? The professionals at Seattle based Angel's Junk Removal will come directly to where that heavy old appliance is located so there is never any need to worry about injury or damage from moving the article to the curb.
Our first effort when removing appliances is to see whether they can be reused. While most appliances can last between 10 to 18 years, consumers often enjoy updated models for the innovations in technology and style. When recovering items that are still operational or only in need of minor repair, Angel's donates to local Seattle area charities to benefit those that cannot afford the purchase of these appliances.
Non-working appliances are delivered to recycling centers and then brought to scrap recycling facilities. Trained technicians remove chlorofluorocarbons (CFCs) to prevent damage to the ozone layer. Once the dangerous chemicals are removed, copper and other metal are separated manually. Appliances are then either baled or shredded. The shredded steel can then be separated magnetically so it can be made into new products. Proper reuse and recycling of appliances in the Seattle area is our main priority.
Environmental Benefits
Because of the value of the raw materials found in obsolete appliances and the amount of space they would take up in our landfills, it is absolutely imperative to recycle. All appliances contain recycled steel and are recyclable when they come to the end of their useful lives. In fact, the weight of your typical appliance is 75 percent steel. Furthermore, the internal steel components of appliances can be made using 25 percent or virtually 100 percent recycled steel.
The steel recycled from items such as appliances saves energy and natural resources. By using recycled steel we realize an 86% reduction in water pollution and a 97% reduction in mining wastes. Also, by simply recycling one ton of steel, we conserve 2500 pounds of iron ore, 1400 pounds of coal and 120 pounds of limestone.
Freon
Because of Freon's destructive impact on the ozone layer, the Clean Air Act prohibits its venting into the atmosphere. The removal of Freon is a complicated and expensive process. Angel's charges an additional $35 for refrigerators, air conditioning units and freezers on top of our normal volume based pricing.
Appliances We Remove
Here is a list of just some of the appliances we recycle:
Air Conditioners
Camcorders
Cameras
CD Players
Computers
Dishwashers
DVD Players
Freezers
Microwaves
Refrigerators
Stoves
Telephones
Seattle Area Drop off Locations
If you wish to recycle your non-functioning appliances yourself, you can do so at the listed location:
Seattle Iron and Metal
601 S Myrtle St
Seattle, WA 98108
(206)762-3567