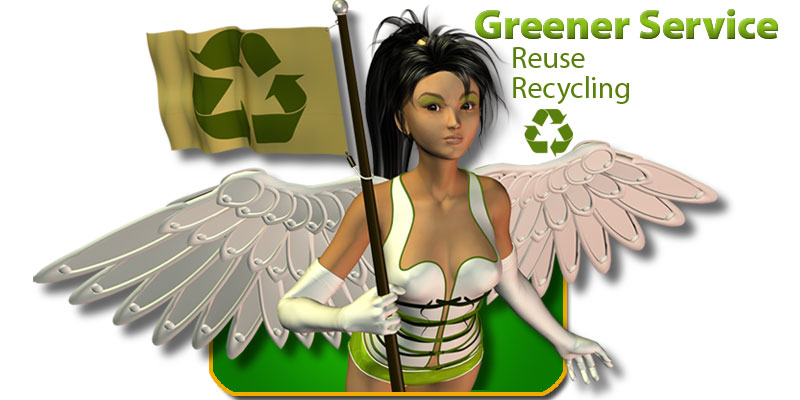 Metal Removal and Recycling
Serving Seattle, Tacoma, & Bellevue
At Angel's, our policy is to reuse everything possible. Whether it be a residential client looking to update their appliances and electronics or a commercial contractor that needs clear an area of construction debris, Angel's will remove the items direct from their location. Items are then taken to the recycling where the metal can be separated and reused. We serve the greater Seattle Area from Everett to Tacoma.
Angel's always make certain to recycle all ferrous and non ferrous metals. The recycling of metals is an important aspect of our nation's economy. For example, scrap has been a major export commodity for more than a decade. Over fifteen billion dollars worth of scrap commodities are exported and represent our second largest export to China.
We also firmly believe in the efficiency and environmental benefits of metal recycling. By recycling just one ton of steel scrap, over 80% of the CO2 emissions are saved over making the steel from iron ore. Because of our nation's recycling efforts, we save enough energy to supply the city of Los Angeles with close to a decades worth of electricity.
Metal Recycling Locations
There are several important environmental and economical reasons to be recycling all items that contain metal. The main benefit is that metal can be recycled an infinite number of times. Also there is a specific metal point in all metals where pure metal can be derived from all from alloys. By recycling, much less energy is used than in the mining process. In the case of steel over 70 percent of its energy can be saved by recycling while aluminum and copper can save 80 percent and higher of their energy.
Reuse of metal found in our homes, appliances, construction debris and televisions is absolutely imperative. Below are some Seattle area locations for recycling:
North Recycling and Disposal Station (NRDS)
1350 N 34th St
Seattle, WA 98103
South Recycling and Disposal Station (SRDS)
8105 5th Ave S
Seattle, WA 98115
Seattle Public Utilities
700 Fifth Ave, Ste 4900
Seattle, WA 98104
Pricing
Despite the heavy weight of metal and metal rich items, projects are completed at a very competitive rate. The reason for this is our volume based pricing structure that charge by the percentage of the truck that gets filled. The items are collect at their location and loading, hauling and recycling are done free of charge.
Check out our pricing page for our volume based rates.
Items Heavy in Metal
Construction Debris
Freezers
Ovens
Washing Machines
Dishwashers
Automobiles
Ranges
Monitors
Dryers
Televisions
Water Heaters