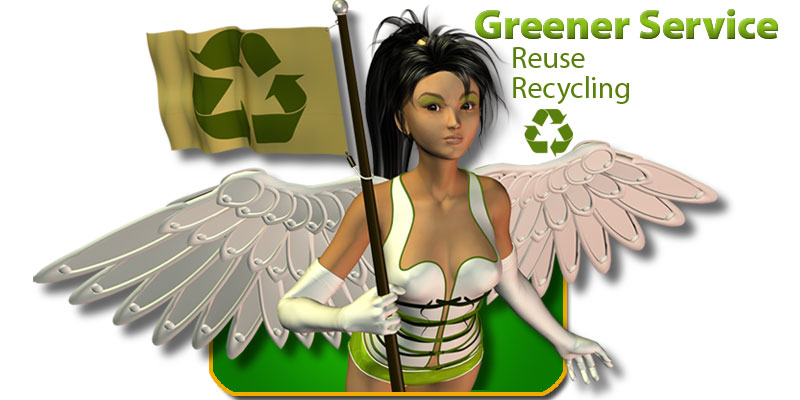 Glass Recycling and Reuse
Seattle, Tacoma, Bellevue and Everett
Angel's Junk Removal recycles all disposed glass. Whether the items come from a demolition project or are simply the random bottles and unwanted vases from a home cleanup, we take the time to separate all glass by color to assure its proper reuse. By recycling, we can realize up to a 30% savings in energy and a 20% savings in air pollution. Fortunately here in the Greater Seattle Area we have several options for keeping glass out of our landfills.
Call us today at 877-744-5865 for a free estimate.
Proper Glass Disposal
Seattle is a leader in the international studio glass movement. Near the city is the Pilchuck Glass School, a world renowned center for glass art. Also concentration of studio glass artists is among the highest in the world.
If you are searching for a place to recycle glass, the Bedrock located at the bottom of Queen Anne Hill is an excellent location. Bedrock is not a non-profit; instead it reuses your used glass for creating tiles, building materials, household items and artwork to sell later for profit. The household glasses made from used beer and soda pop bottles are particularly cool. The Bedrock is a great place to recycle and is also a place worth checking out for home improvement.
Bedrock Industries
1401 W Garfield
Seattle, WA 98119
For a more thorough list of where to recycle around King County, see our glass recycling center guide.
Glass Recycling
Because of its weight and density, glass is a large percentage of our household and industrial waste. Glass waste needs to be broken up by chemical composition and sometimes by the different colors. In our urban society, the glass component is typically made from bottles, broken glassware, light bulbs and other items. Adding to this waste is the fact that many manual to create glass items have a defect rate of around forty percent. Glass is created from sand, lime and soda, but glass recycling is far more efficient. For each metric ton of waste glass that gets recycled into new items, there are 315 additional kilograms of carbon dioxide that would otherwise be released into the atmosphere.